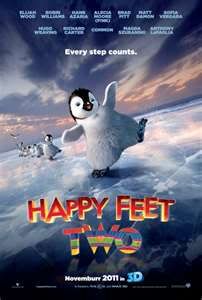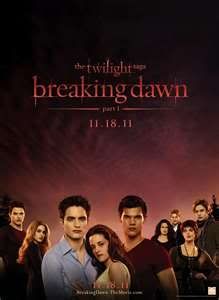 What could
"Happy Feet Two and Breaking Dawn: Part One"
possibly have in common? One movie is musical entertainment for the whole family about singing and dancing penguins. The other movie is about a girl torn between her love for her Vampire boyfriend and the Werewolf who wants to be her boyfriend.
Are you still wondering what these two movies have in common? They are both coming out on November 18
th
, 2011! A family movie vs one of the ultimate chick flicks ever made. It will be interesting to see which movie grosses the most their opening weekend.
I have already anticipated this
dilemma
for the ladies who have children begging to see
Mumble
all grown up with his own penguin baby, but you would rather see
Bella
marry her Vampire love
Edward
. So what is a mom to do especially since your husband would rather stick a fork in his eye than be dragged to see this chick flick. I have the perfect solution for the whole family! Bribe your husband to take the kiddos to see the dancing penguins and you get to see the chick flick! Problem solved. As my hubby commented to me, it's a sad day when I would prefer to see the dancing penguin movie over the way too beautiful vampires movie. That actually made me
laugh out loud
or
rolling on the floor laughing
. Good luck and now is the time to get those plans made. Forget the Royal Wedding as this movie is going to be the biggest wedding of the year on that big screen!